Ramsey County breaks ground on 30,530 square-foot new Environmental Service Center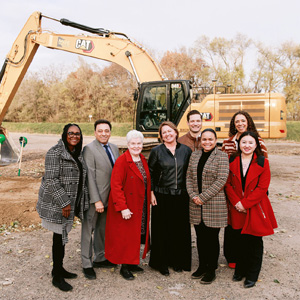 Ramsey County marked an important milestone on our community's path toward a more sustainable future today with a groundbreaking ceremony for a new Environmental Service Center. 
The service center, to be built at 1700 Kent St. in Roseville, is part of Enhancing Environmental Health Services, a county initiative to redesign and add recycling and waste disposal services to better meet community needs. The county started this process in 2020 by surveying residents to learn more about their needs for recycling and waste collection. This center is one of the first projects developed due to feedback from the 2020 survey.
"Our residents are excited about a one-stop shop for recycling and disposal services," said Ramsey County Commissioner Victoria Reinhardt. "Having these services, along with other environmental activities, at a convenient, accessible location in the middle of our county will be a great step forward." 
Everything about the site has been designed to make recycling and waste reduction easier for county residents. The site will feature: 
A covered drive-through drop-off for household hazardous waste and electronic waste so residents can conveniently drop off waste year-round in all types of weather. 
A free product reuse room. 
Space for Fix-It Clinics and other environmental education and activities. 
Food scraps and general recycling drop-off. 
The Roseville location was chosen as it is centrally located within the county, for ease of access. In keeping with the county's commitment to environmental stewardship, the center is designed for reduced energy use and carbon footprint by following the State of Minnesota's B3 Sustainable Building 2030 Standards. The building will use solar and geothermal power and have electric vehicle charging stations, rain barrels, native plantings and gardens and paths to easily connect to nearby walking, biking and transit corridors. 
"We are taking a residents-first approach to this project," said Saint Paul—Ramsey County Public Health Director Sara Hollie. "We've incorporated residents' feedback at every step of the planning process." 
The total cost to the county for the 30,530 square-foot environmental service center is $29,721,000. The funding comes from the County Environmental Charge, which supports most of the county's environmental health programs. The new center will not increase the County Environmental Charge. 
The new building is set to open in late 2025 or early 2026. Once the center is open, services offered at the current year-round household hazardous waste site in Saint Paul will move to the new facility.  
Community members can watch the groundbreaking event on the county's YouTube channel or watch a virtual fly-over of the space by visiting the Environmental Service Center project page. 
Posted on
Tuesday, October 24, 2023 - 4:00 p.m.