Union Depot to be the "Hub for the Holidays" this December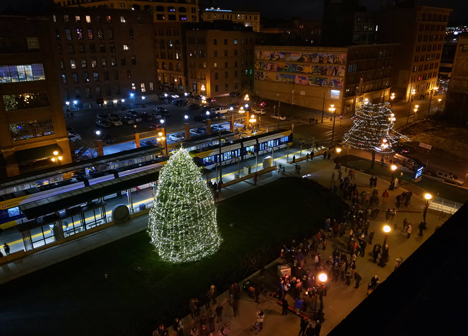 The holiday festivities at Union Depot in Lowertown will begin Friday, Nov. 25 with the expanded European Christmas Market. There will be a total of 60 vendors at the market—20 more than in 2021. Market offerings include Scandinavian-inspired handcrafted goods, traditional German ornaments, Eastern European souvenirs and much more. There will also be a large selection of food and beverage options, from French Crêpes to Polish Sausage.
On Saturday, Dec. 3, the 10th anniversary of the 2012 Union Depot building restoration will be celebrated with giveaways. The annual Holiday Tree Lighting and movie night will also take place. Enjoy live music, the unveiling of the 2023 Saint Paul Winter Carnival button and a showing of the movie Elf.
The always-popular North Pole Express and the Union Depot Holiday Bake Sale will also take place during "Hub for the Holidays".
Below is a list of holiday happenings at Union Depot.
Posted on
Monday, October 24, 2022 - 10:05 a.m.