Solar Resources
Contact us
Ramsey County is committed to promoting renewable energy development and reducing greenhouse gas emission within its own operations, as well as within the housing, business, municipal and transportation sectors across the county. The county's programs, policies and practices reflect a commitment to energy and environmental stewardship as a cornerstone of healthy and vibrant communities, in alignment with the county's vision, mission and goals. See the Resilience Chapter of Ramsey County's 2040 Comprehensive Plan to view all resilience goals, policies and strategies. 
The county has established these goals for reducing greenhouse gas emissions:
Reduce 30 percent by 2025 from 2008 levels.
Reduce 80 percent by 2050 from 2008 levels.
Currently, the county has:
Thirty five solar thermal panels tied into the District Energy grid on the Law Enforcement Center near downtown St. Paul that were installed in 2012.
Three community solar subscriptions that help offset energy costs at the Ramsey County Care Center in Maplewood.
A 40 kilo watt solar array at the Parks and Rec administrative building and a 20 kilo watt ground mounted array at the Ponds of Battle Creek Golf Course in Maplewood (pictured above).
SolSmart program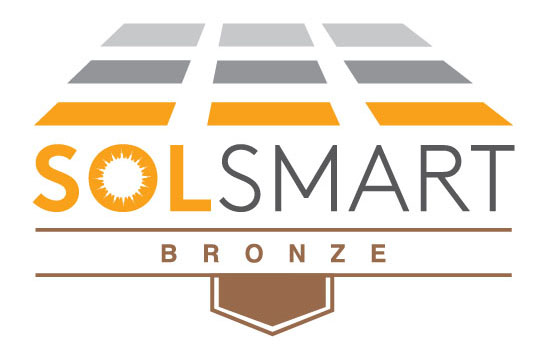 Funded through the Energy Department's Solar Energy Technologies Office, the International City/County Management Association (ICMA) and The Solar Foundation, Ramsey County was one of 25 communities in the metro area to be awarded a SolSmart Advisor status. Ramsey County worked with their advisor to address solar "soft costs" and barriers to the use of solar energy in the county, as well as apply industry-leading best practices. This work allowed Ramsey County to become the first metro area county to be officially granted the designation of "SolSmart Bronze" in April 2019.
Solar planning and zoning guidance for cities
Solar permitting and inspections guidance
Find an installer, consumer rights and protections
Project development and financing
Electric utility solar resources and other resources