East Metro Rail Yards Improvement Project
Contact us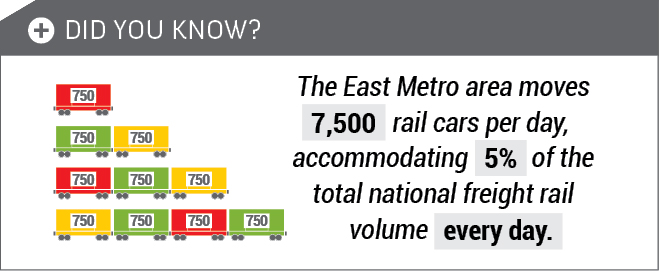 Ramsey County has been working with project partners to identify a system of rail improvements known as the East Metro Rail Yards Improvement Project. These improvements seek to reduce train delay, supply efficient routing, provide flexibility in the handling of existing freight and passenger trains, and maintain capacity for freight and passenger rail growth. 
The proposed improvements were developed based on:
Preliminary engineering.
Rail modeling.
Financial planning.
Public benefit analysis.
Preliminary environmental analysis.
Input from the community and stakeholders.
Ramsey County and stakeholder railroads to work together to advance the project. The county will continue to work with public and private industry partners to secure funding for these improvements. Once funding is received, environmental documentation and final engineering will be completed to meet all requirements before construction
Learn more:
Project overview video
The East Metro Rail Yards Improvement Project video offers an introduction to the purpose and need for the work, and summarizes the proposed improvements. It also highlights some facts about the positive impacts of railroads in the region.